King Ranch Chicken for Two Recipe
Welcome to Our website Qacico.Com Quickly browse thousands of our professionally tested recipes for any and every occasion. Please find and share everyday cooking inspiration on Our website food recipes. All recipes was tested recipes to choose from, so you're sure to find the perfect dish.
DELICIOUS RECIPES
How To Make Delicious Food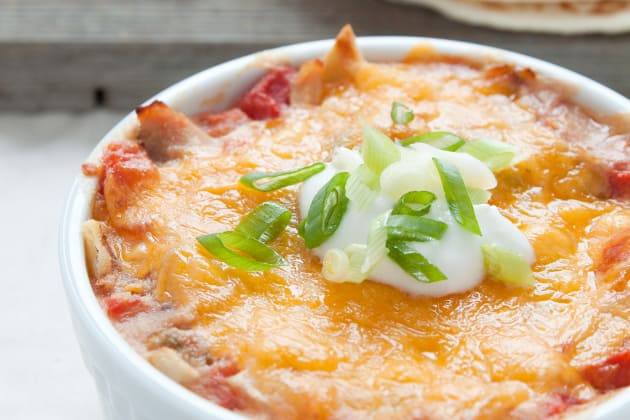 Ingredients
1 Boneless Skinless Chicken Breast, large
2 tablespoons Unsalted Butter
3 tablespoons All-Purpose Flour
1 cup Chicken Broth
1 tablespoon Heavy Cream
1 jalapeños Jalapeño, small and minced
1/2 cup Onion, diced
1 10 ounce can Ro-Tel
2 tortillas Corn Tortillas, or Flour tortillas, your choice (8-inch)
1/2 teaspoon Garlic Salt
1/2 cup Shredded Cheddar Cheese
Salt and Pepper, to taste
Directions
In a medium sauce pan, poach the chicken breast in water until it registers 165°F. Remove the chicken from the water and let cool on a cutting board.
Preheat the oven to 350°F, and have ready two 10-oz ramekins.
Next, wipe out the saucepan and return it to medium heat. Add the butter and let it melt. Stir in the flour with a whisk, and whisk constantly while cooking for about 1 minute. Next, slowly whisk in the chicken broth and heavy cream. Let the mixture come to a boil to thicken. Add salt and pepper to taste.
In a large bowl, combine the Ro*Tel tomatoes, the minced jalapeño and onion. Next, stream in the chicken stock mixture and stir to combine.
Shred the chicken when it's cool enough to handle.
Next, tear up the tortillas into small strips. Place one-fourth of the tortillas in the bottom of each of the two 10-oz ramekins. Place one-fourth of the shredded chicken on top. Ladle one-fourth of the chicken broth and tomato mixture on top. Sprinkle a bit of the garlic salt on top. Repeat with the remaining ingredients to make two layers total. Finally, top with the cheese.
Bake on a sheet pan for 30 minutes, or until bubbling. Serve warm.