vegan roasted corn and pepper soup
Welcome to Our website Qacico.Com Quickly browse thousands of our professionally tested recipes for any and every occasion. Please find and share everyday cooking inspiration on Our website food recipes. All recipes was tested recipes to choose from, so you're sure to find the perfect dish.
DELICIOUS RECIPES
How To Make Delicious Food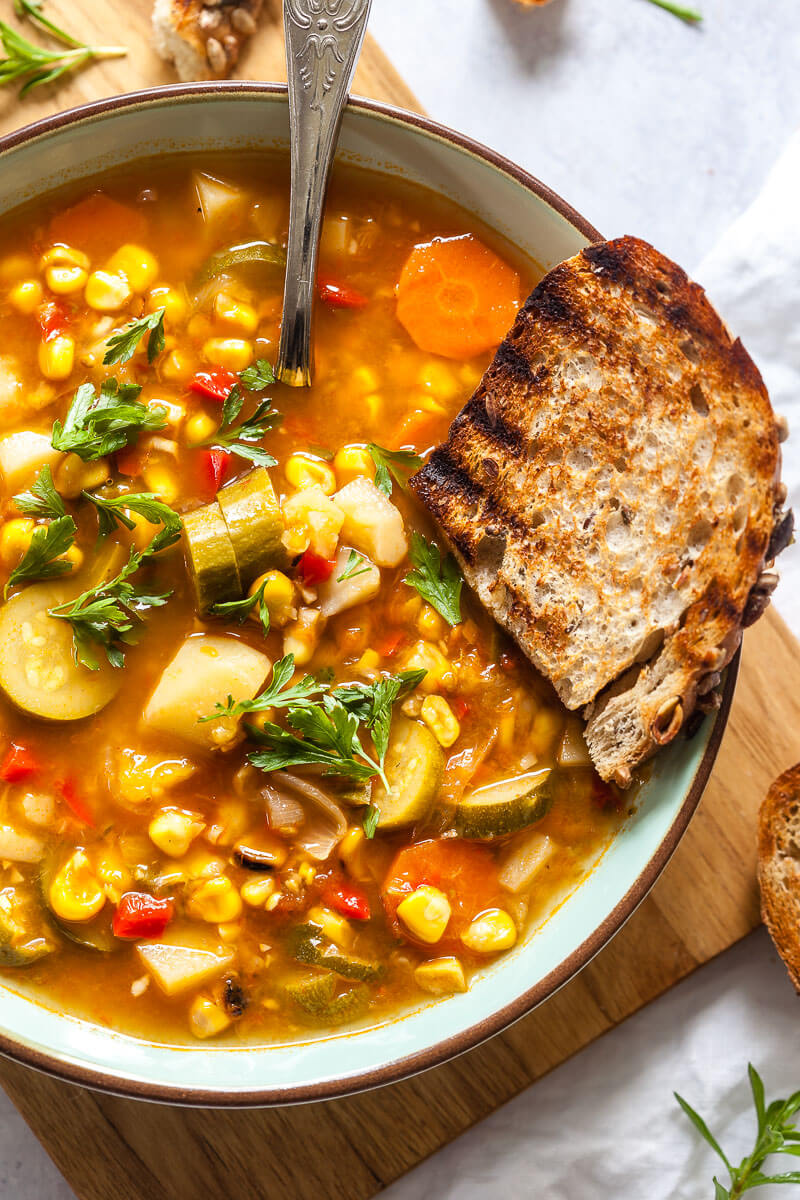 Ingredients
2 corn ears
1 onion
3 cloves garlic
1 carrot
1 tomato
1 red bell pepper
1 yellow bell pepper
1 zuchhini
2 potatoes
1 tsp vegetable oil
pinch of salt
dash of black pepper
2 cups vegetable stock
Instructions
Place your ears of corn on a grill or grill pan and grill for about 5 minutes, turning it, until it's charred. Then, shave your ears of corn with a sharp knife to get corn kernels. Alternatively, you can use leftover grilled corn, fresh or canned corn.
Peel and dice onion and garlic. Slice carrot. Chop tomato, peppers, and zucchini into bite-sized chunks. Peel and dice potatoes.
In a pot, heat a spoon of oil and add the onion. Gently fry on medium heat, stirring regularly, until the onion turns soft and translucent. Add garlic and carrot and saute for a minute or two. Then, add in tomato, peppers, corn, and potatoes and with the lid on, saute for about 3-5 minutes.
Pour in 2 cups of vegetable stock and 1-2 cups water (depending on how thick you like your soup), add in zucchini, season with salt and pepper to taste, bring to a boil and then bring the heat down and let simmer on low for about 15 minutes, until the vegetables turn soft.
With a stick blender, roughly blend the soup, just a bit to thicken it, but leave chunks of vegetables.
Serve with parsley and a piece of toasted bread.
Notes
We used leftover grilled corn ears in our recipe, that we simply shaved with a knife to get kernels. You can also use fresh corn, canned or frozen (about 1-2 cups), depending what you have on your hands!