This Strawberry Cheesecake features a creamy cheesecake on a graham cracker crust topped with fresh strawberry sauce.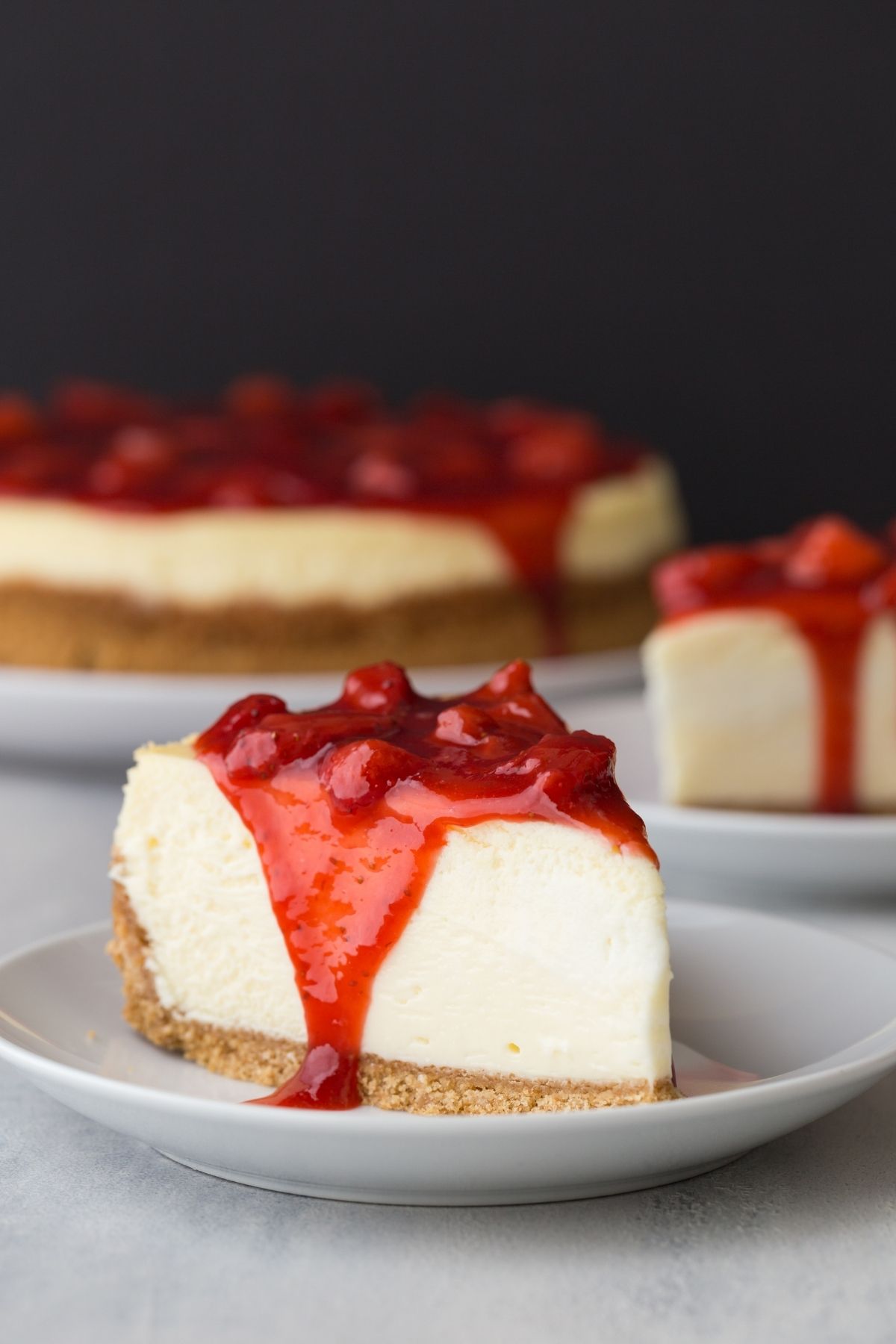 INGREDIENTS
FOR THE CRUST
2

cups

(

168

g

) graham cracker crumbs,

about 2 sleeves

1/4

cup

(

50

g

)

granulated sugar

6

tablespoons

unsalted butter

,

melted
FOR THE FILLING
32

ounces

(

908

g

)

cream cheese

,

room temperature

1 and 1/3

cups

(

267

g

)

granulated sugar

1

cup

(

230

g

)

sour cream

,

room temperature

1

tablespoon

vanilla extract

1/4

teaspoon

salt

4

large eggs

,

room temperature, lightly beaten
FOR THE SAUCE
16

ounces

(

453

g

)

whole strawberries

,

diced

2

tablespoons

cornstarch

1

cup

(

200

g

)

granulated sugar

2

teaspoons

vanilla extract

1/8

teaspoon

salt

2

cups

(

288

g

)

finely chopped strawberries
INSTRUCTIONS
MAKE THE CRUST
Move the oven rack to the lower third position and heat the oven to 350°F. Wrap the outer bottom of a 9-inch springform pan tightly with aluminum foil.

Combine the graham cracker crumbs, sugar, and melted butter. Press the crumb mixture into the bottom and about 2-inches up the sides of the pan. Bake for 10 minutes. Set aside to cool while you make the filling.
MAKE THE FILLING
Reduce the oven temperature to 300ºF.

In a large mixing bowl beat the cream cheese with an electric mixer until smooth and creamy, about 1 minute.

Add the sugar and sour cream, beat until well combined. Add the vanilla and salt, beat on low speed until smooth.

Using a silicone spatula, gently stir in the eggs just until combined. Pour the batter over the prepared crust.

Fill a roasting pan with a few inches of boiling water and place the cheesecake in the center.

Bake for 1 hour,

OR until the edges are set and the center is slightly jiggly.

Turn the oven off, leave the cheesecake in the water bath in the oven for another hour.

Remove the cheesecake from the water bath and place it on a wire rack. Run a small knife around the outer edge of the cheesecake to loosen it from the pan and leave it to cool completely.
MAKE THE SAUCE
Add the diced strawberries and cornstarch to the bowl of a food processor and process until smooth. Transfer to a medium saucepan and add the sugar.

Cook over medium heat, stirring constantly until thickened, about 15 minutes.

Remove from heat and stir in the vanilla, salt, and chopped strawberries. Set aside to cool for about 40 minutes, stirring occasionally.

Spread the topping evenly over the cheesecake and refrigerate for at least 4 hours, preferably overnight.

Remove the sides of the pan just before serving.
MAKE AHEAD TIP
The cheesecake will keep for up to 4 days covered and stored in the refrigerator.

The cheesecake can be frozen for up to 3 months. Thaw overnight in the refrigerator.
How To Make Delicious Food