Welcome to Our website Qacico.Com Quickly browse thousands of our professionally tested recipes for any and every occasion. Please find and share everyday cooking inspiration on Our website food recipes. All recipes was tested recipes to choose from, so you're sure to find the perfect dish.
DELICIOUS RECIPES
How To Make Delicious Food

This Brie Spinach Dip will be one of the best spinach dips you've ever made and/or tasted! Its rich, creamy cheesy, packed with flavor and the brie fancies it up for every party AND you can make it all ahead!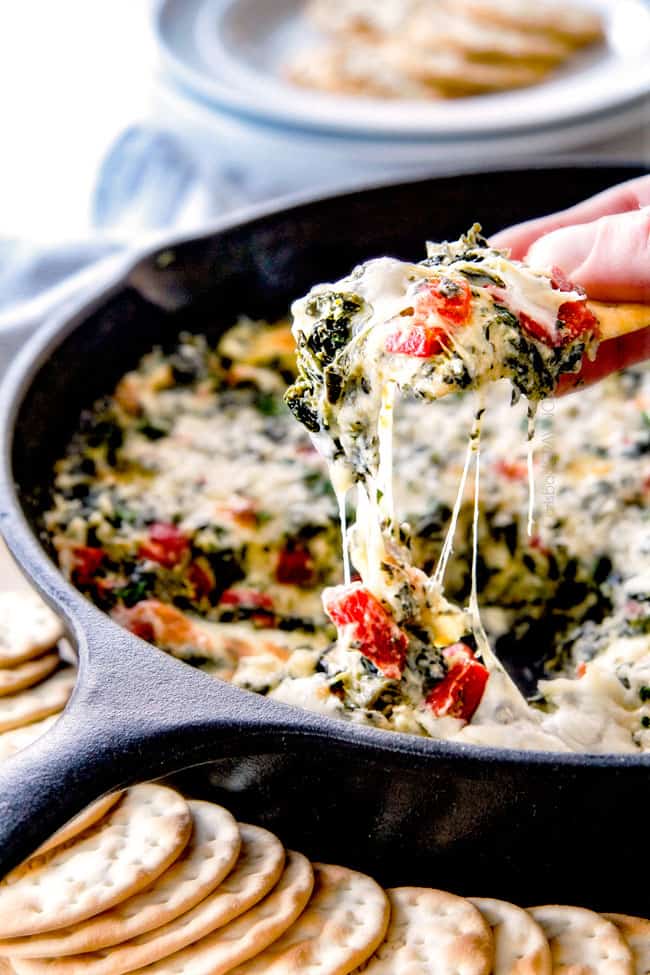 4

tablespoons

unsalted butter

1/4

onion, chopped

2-3

garlic cloves, minced

1/4

cup

all-purpose flour

2

cups

milk

1

teaspoon

Worcestershire sauce

1/2

teaspoon

salt

1/2

teaspoon

pepper

1/4

teaspoon

paprika

1/4

teaspoon

cayenne

1/2

cup

sour cream

1

10 oz. pkg.

frozen spinach

thawed, squeezed dry

1

cup (12 oz. jar)

chopped roasted red peppers

thoroughly drained/patted dry (optional)

1

13 oz. pkg.

brie cheese, rind removed, cubed

1

cup

freshly grated mozzarella cheese

divided

3/4

cup

freshly grated Pepper Jack cheese

divided

1/2

cup

freshly grated Parmesan cheese

divided
Preheat oven to 375 degrees F.

Melt butter in a 9" oven proof skillet over medium high heat (OR use any skillet and transfer dip to lightly greased 9" pie pan to bake). Add onions and cook, while stirring for 3 minutes. Add garlic and saute 30 seconds.

Stir in flour, and cook, while stirring, for 2 minutes. Turn heat to low and stir in milk, Worcestershire sauce and all spices. Increase heat to medium high and bring to a simmer, while stirring, until thickened (but not too thick).

Remove from heat and stir in sour cream until smooth. Stir in spinach and roasted peppers followed by brie, 1/2 cup mozzarella, 1/2 cup Jack cheese, and 1/4 cup Parmesan.

Smooth dip into an even layer (or transfer to prepared pie pan and smooth). Top with remaining cheeses and bake 15-20 minutes or until bubbly and brie is melted. Broil until cheese is golden.

Let sit at least 5 minutes then serve hot with bread, crackers, etc.