SLICED BAKED POTATOES WITH BACON AND CHEESE
Welcome to Our website Qacico.Com Quickly browse thousands of our professionally tested recipes for any and every occasion. Please find and share everyday cooking inspiration on Our website food recipes. All recipes was tested recipes to choose from, so you're sure to find the perfect dish.
DELICIOUS RECIPES
How To Make Delicious Food

I love that these Sliced Baked Potatoes can be tossed in the oven quite quickly. You could grab some precooked bacon or maybe some frozen broccoli and have a meal or side dish ready with ease.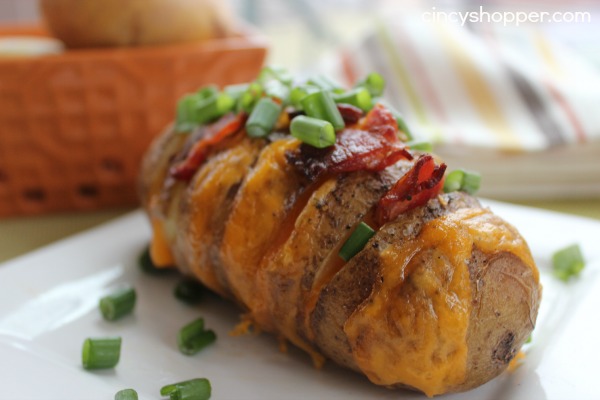 INGREDIENTS
4 large baking Potatoes
8 oz Cheddar Cheese
3 sliced Green Onions
1-2 tbsp Olive Oil
5 slices Bacon
Salt and Pepper to taste
DIRECTIONS
Wash potatoes and pat dry.
Make a series of vertical slices through the width of the potatoes, going about 3/4 way through the potatoes. Do not cut all the way through.
Rub potatoes down with olive oil and place on baking sheet.
Season with salt and pepper and bake at 400 for 45 minutes.
Fry bacon; drain on paper towels ad cut into small pieces.
Remove from oven and insert cheese and bacon into slices, being careful not to bust the potatoes.
Return to oven for another 10 minutes.
Garnish with green onion slices.
My whole entire family will eat baked potatoes so when I made these I knew everyone would eat them up and would not be complaining for me to make them something separate. Baked potatoes are one of those items that just about everyone likes to have if they are stuffed with their favorite toppings. The only difficult part of the process with these potatoes is making sure not to cut all the way through your potato when you slice it. Also, when you are pulling the slices apart to stuff be sure to gently push a knife down in the slice to widen the slot for your topping.
Recipes by
cincyshopper.com