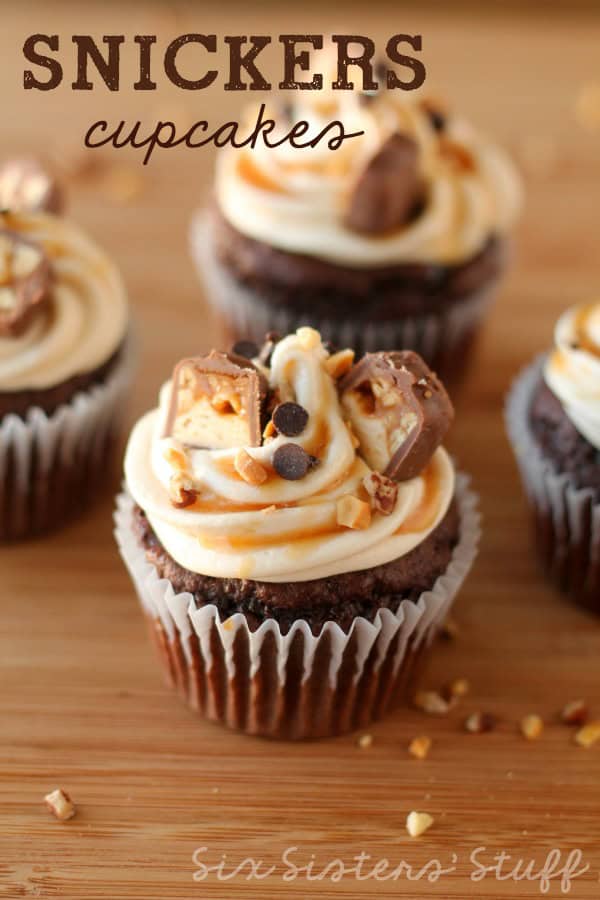 INGREDIENTS
Cupcakes:
1 (15.25 ounce) box devils food cake mix
1 (3.4 ounce) box chocolate instant pudding
3/4 cup sour cream
3/4 cup vegetable oil
3 large eggs
1 teaspoon vanilla extract
Caramel Buttercream Frosting:
1/2 cup (1 stick) butter, softened to room temperature
1/4 cup caramel sauce
1/4 teaspoon salt
3 cups powdered sugar
Additional toppings:
Caramel sauce
Snickers Unwrapped Bites , halved
Mini chocolate chips
Chopped peanuts
INSTRUCTIONS
Preheat oven to 350 degrees F.
Line two muffin tins with paper cupcake liners.
In a large bowl, whisk together cake mix, pudding, sour cream, vegetable oil, eggs and vanilla. Beat for a few minutes, until well combined.
Bake for 20 minutes, or until an inserted toothpick comes out clean.
Let cupcakes cool completely.
In a large mixing bowl, beat together butter, caramel sauce and salt. Gradually beat in powdered sugar until fluffy. If your frosting is too thin, add more powdered sugar.
Spread or pipe frosting onto cooled cupcakes.
Top cupcakes with a drizzle of caramel sauce, candy, chocolate chips and peanuts.
How To Make Delicious Food