Gooey Chocolate S'mores Cupcakes
Welcome to Our website Qacico.Com Quickly browse thousands of our professionally tested recipes for any and every occasion. Please find and share everyday cooking inspiration on Our website food recipes. All recipes was tested recipes to choose from, so you're sure to find the perfect dish.
DELICIOUS RECIPES
How To Make Delicious Food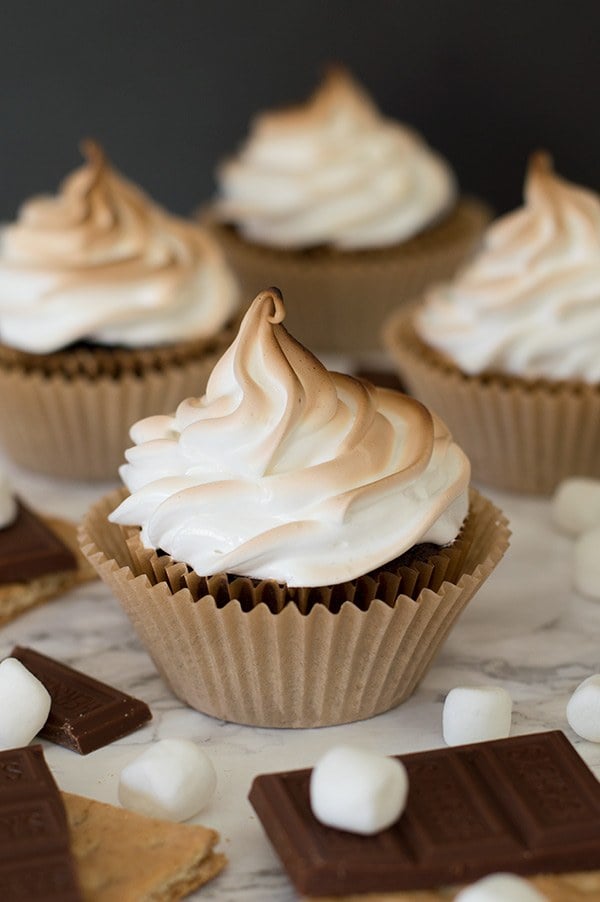 Ingredients
Chocolate Buttercream
2

Hershey's Bars

3

oz of chocolate

8

tablespoons

(

4

oz) unsalted butter
Graham Cracker Layer
1/4

cup

graham cracker crumbs

(

2 1/2

) graham crackers

1/4

cup

(

30

g) all-purpose flour

2

tablespoons

(

25

g) brown sugar

3

tablespoons

(

1.5

oz) melted butter
Cupcakes
4

tablespoons

(

2

oz) unsalted butter

1/4

cup

(

1.5

oz) semi-sweet chocolate

chopped (high-quality chips are fine)

1

tablespoon

vegetable oil

1/2

cup

(

60

g) all-purpose flour

1/4

cup

(

20

g) unsweetened cocoa powder

sifted

1/2

teaspoon

baking powder

1/4

teaspoon

baking soda

1/4

teaspoon

salt

1/2

cup

(

100

g) granulated sugar

1

large egg and

1

large egg yolk

at room temperature

1/2

teaspoon

vanilla extract

1/4

cup

buttermilk

1/4

cup

hot coffee or hot water

5

cups

marshmallow frosting

see recipe for when to start the frosting
Instructions
Start Chocolate Buttercream
Start the buttercream about an hour before you are ready to make your cupcakes. In a small saucepan, over medium heat, melt together butter and chocolate until completely melted. Stir together and then remove from heat.

Allow to cool on the counter for 10 minutes before placing in the refrigerator until solid, about 1 hour.
Graham Cracker Layer
Preheat oven to 350° Line cupcake pan with grease-proof liners.

In your food processor, pulse graham cracker pieces until they are a fine crumb. Add in flour and sugar and pulse until combined. Drizzle in butter and continue to process until completely incorporated. If you don't have a food processor, you can crush the graham crackers with a rolling pin in a plastic bag and mix everything in a bowl.

Divide graham cracker mixture between cupcakes cups, a little less than one tablespoon per cup, and use your fingers or a shot glass to press mixture down firmly.

Bake for 5 minutes until tops look set.
Cupcakes
In a medium microwave-safe bowl, microwave butter until almost completely melted. Add chocolate and oil and microwave for 30 seconds. Stir. Microwave for an additional 15 seconds if necessary, until chocolate is completely melted. Stir until well-combined and set aside to cool.

In a medium bowl, whisk together flour, cocoa powder, baking powder, baking soda, and salt. Set aside.

In a large bowl, whisk together sugar, eggs, and vanilla extract. Whisk in cooled chocolate mixture. (It can be warm, but if it is hot to the touch, set aside for another couple of minutes. You don't want to scramble the eggs!)

Whisk in half of the flour mixture until just combined. Add all of the buttermilk and mix. Whisk in the last of the flour, mixing until just combined.

Whisk in the coffee (or water). The batter will be thin and runny. It's supposed to look like that.

Fill cupcake tins just under 3/4 of the way full (if you transfer the batter to a liquid measuring cup first, it makes filling easier). Don't overfill--you might have a tiny bit of batter left over.

Bake for 15-18 minutes, until a toothpick inserted into the center of the cupcakes comes out clean.

Take chocolate frosting mixture out of the refrigerator and set on the counter to soften while your cupcakes cool.
Finish Chocolate Filling and Assemble
Allow cupcakes to cool completely, about half an hour. Once cupcakes are cool, use a handheld electric mixer, or scoop softened chocolate mixture into the bowl of your stand mixer and use the whisk attachment, to whisk mixture on medium-high until light in color, about 2 minutes.

Using a serrated knife with a sharp tip, cut a cone-shaped piece out of the center of each cupcake. You don't have to be neat about it, and you can discard (or eat) the cone.

Transfer chocolate frosting to a plastic bag by placing the bag over an empty cup and scooping the mixture inside. Seal bag and snip off one of the corners. Use the bag to "pipe" chocolate mixture into the cupcakes and fill to the top.

Turn broiler on high and place cupcakes on a tray in the oven. Watch closely and do not walk away from the oven. Leave cupcakes in just long enough to toast the marshmallow frosting, 2 to 4 minutes.
Recipe Notes
Make sure to use grease-proof liners if grease spots matter to you. Regular liners hold up just fine for these cupcakes, but the butter in the graham cracker base will turn the liners dark, and doubling up only works long enough to snap a few photos.