Knock Your Socks Off' Tailgate Burgers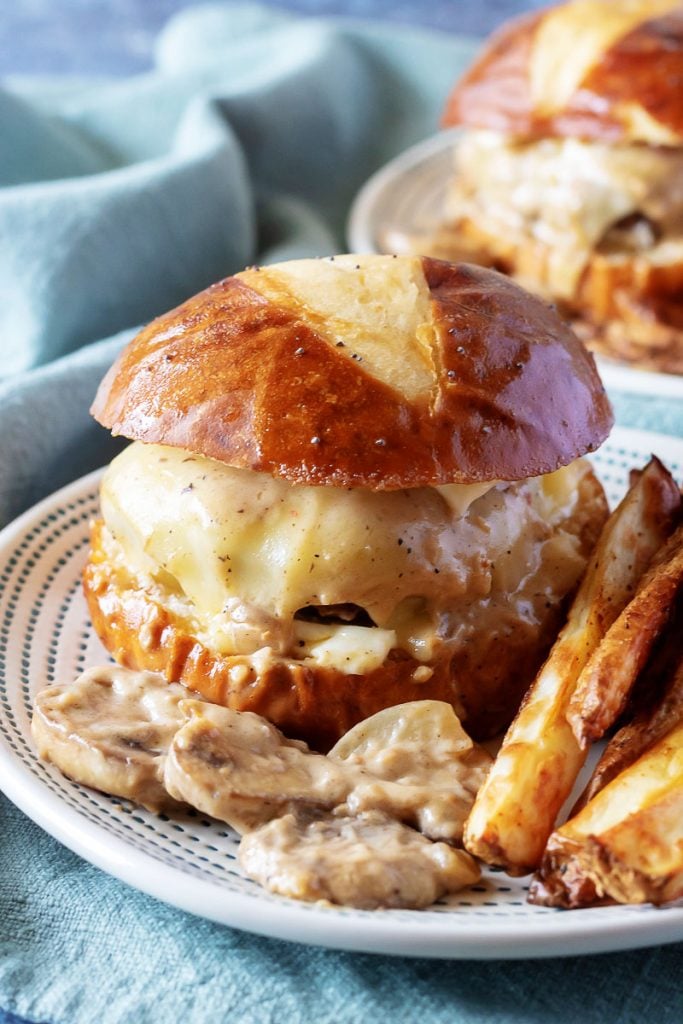 Ingredients
For The Burgers
1

lb

ground beef

6

full-size of 12 mini pretzel rolls

6

slices

pepper jack cheese

cut in half to make 12 pieces if using slider-sized buns

mayonnaise to spread over the inside of the rolls
For The Creamy Mushroom sauce
8

oz

thinly sliced mushrooms

3

tbsp

butter

2

tbsp

minced garlic or 4 garlic cloves minced

1/2

cup

diced white onion

1

tbsp

Worcestershire sauce

1/2

cup

heavy cream

or half and half

1/2

cup

beef broth

1/2

tsp

salt

1/2

tsp

pepper

1

tbsp

cornstarch + 2 tbsp cold water

mixed together
For The Bun Topping
1/2

cup

butter

2

tsp

poppy seeds

2

tsp

Worcestershire sauce
Instructions
Divide the ground beef into 6 patties, or 12 small patties if going the slider route. In a large skillet or dutch oven, cook the patties until browned on both sides and cooked completely through. After they're cooked, set them aside, and discard excess grease.

In the same skillet, melt 3 tablespoons of butter. Add in the mushrooms, onions, and garlic, and sauté until the mushrooms are tender. Add in the Worcestershire sauce, cream, broth, salt, and pepper. Bring the sauce to a boil, stirring constantly, and then stir in the cornstarch mixture. Once the sauce has thickened, remove it from the heat and set it aside.

Slice open the pretzel buns and spread some mayo over the top and bottoms of each bun. Place the cooked patties on the bottom of bun and add the pepper jack cheese on top. Spoon a generous amount of the mushroom sauce over the top of each patty and replace the top of the bun. Put the assembled burger in a greased 9 x 13 baking dish. Melt the 1/2 cup of butter for the topping and stir in the poppy seeds and Worcestershire sauce. Spoon the melted butter over the top of the sliders. Cover the dish tightly with foil and bake at 375 degrees for about 15 minutes. Serve hot.
How To Make Delicious Food